King Kalm Extra Strength CBD Oil 150 MG - For Dogs & Cats (30 ML)
King Kalm Extra Strength CBD Oil 150 MG - For Dogs & Cats (30 ML)
Product Description
KING KALM™ CBD is a pet product line made from the highest quality naturally occurring Phytocannabinoid rich (PCR) broad spectrum oil. It's suspended in the highly beneficial omega-3 rich krill oil (Super Food). The Essential Fatty Acids (EFA) in krill oil are known to be an efficient catalyst for delivering CBD to the body. Increased omega-3 consumption has been linked to upregulation of CB1 and CB2 receptors, as well as increased levels of endocannabinoid synthesis enzymes.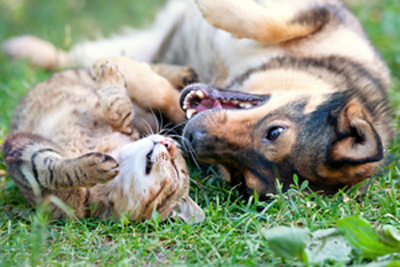 Our broad spectrum cannabinoids and terpenes create an entourage effect which studies have shown provide an even greater therapeutic effect than CBD isolate. CO2 Extraction is the process in which we extract the CBD from the hemp plant at a low temperature, under high pressure. This allows us to capture CO2 in a liquid state and efficiently draw the CBD and terpenes from the plant material.

Hemp contains a number of different chemicals, including CBD, phytocannabinoids, terpenoids and flavonoids. Humans and other mammals have specific cannabinoid receptor sites. These sites are primarily in the brain and central nervous system, and in peripheral organs, especially immune cells. They make up what's called the endocannabinoid system. Studies show that many cannabinoids have anti-inflammatory effects, and can help with pain, tumors, seizures, muscle spasms, skin conditions, appetite stimulation, aggression, anxiety, and neurological disorders. The addition of lavender essential oils have been shown to have a positive correlation to animal health providing a relaxing and calming feeling. A pet CBD Oil could be the perfect solution your companion need

What is PCR? How does it help with anxiety?
The naturally occurring Phytocannabinoid rich (PCR) hemp oil has been medically proven to help significantly reduce anxiety. Several studies in animals have clearly demonstrated that activation of cannabinoid receptors within the brain lowers heart rate and blood pressure responses to stress and reduces panic and anxiety behavior. Put simply, natural hemp-derived CBD administration appears to attenuate the well-known "fight or flight" phenomenon to physical and mental stress. Other studies using similar models in animals have shown that CBD administration decreases fear-avoidant and conditioned responses to pain or punishment.
Available in three concentrations:

King Kalm CBD™ (75mg) Regular Strength infused with Lavender
King Kalm CBD™ (150mg) Extra Strength infused with Lavender
King Kalm CBD™ (300mg) Pro Strength infused with Lavender
Suggested uses for King Kalm™ CBD:

Can reduce anxiety (Separation, T-storms, Car Travel, Etc.)

Great antioxidant for general overall wellness

Can cause an increase in energy

Assists in decreasing chronic pain due to inflammation or arthritis

May reduce the amount of seizures
Supplement Facts:

Serving Size Dosage: 150MG / 30ML 5 MG Per 1 ML

Ingredients: Naturally Occurring Broad Spectrum Cannabidiol (CBD), Gold Standard Krill Oil, Pharmaceutical Grade Lavender (Consult with your Vet prior to use)

Suggested Dose: Administer once daily


There are three dosage levels, how do I know which one to choose? Standard Dose, Therapeutic Dose or Medicinal Dose?
Use these 4 steps to determine how to does.
Step 1 - Ask yourself, does my pet have a minor clinical condition? Anxiety, timidity? If so, you will follow the standard therapeutic does based in the severity. However, if your pet suffers from chronic illness such as arthritis, hip dysplasia, something like cancer or epilepsy, start with a medicinal dose.
Step 2 - Dose your pet. Monitor signs and symptoms over a few days to weeks time, if signs and symptoms persist, continue that dose until signs and symptoms subside or go down in frequency.
Step 3 - Administer this dosage daily or every other day and take notes or mental notes of how they are acting or reacting.
Step 4 - After your pets signs and symptoms have subsided, slightly lower the dosage, and watch for signs and symptoms to reoccur. Finding the so called sweet spot for your pet. Example, your dog has arthritis and you started at a medicinal dose for two months and signs and symptoms decreased so you then back down to a therapeutic dose with the same efficacy and maintain that same dose.
King Kalm uses Certified Organic Hemp grown in Colorado that is cultivated and processed according to the highest industry standards to produce the most effective final product, only the finest hemp plants that meet our high standards are used and grown without pesticides or GMO's.

*These statements have not been evaluated by the food and drug administration. This product is not intended to diagnose,treat, cure or prevent any disease.
Warranty Information
Product Reviews
Find Similar Products by Category
Customers also viewed