Life Extension Super K with Advanced K2 Complex (90 softgels)
Life Extension Super K with Advanced K2 Complex (90 softgels)
Product Description
Life Extension Super K with Advanced K2 Complex provides the three forms of vitamin K that can be utilized by the body: vitamin K1 and dual forms of K2, MK-4 and MK-7. This comprehensive vitamin K formula promotes both bone and arterial health. So boost your vitamin K levels with the one-two punch of both K1 and K2, add Super K with Advanced K2 Complex to your nutrient regimen today!

Benefits at a Glance: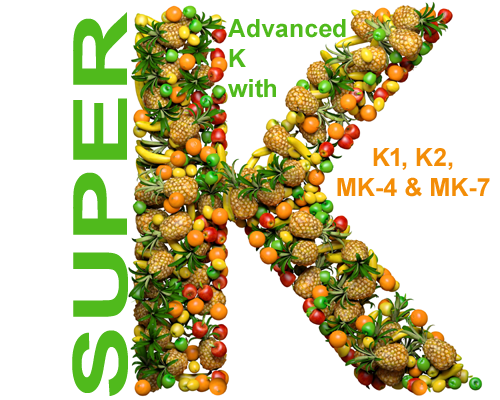 Promotes arterial health

Maintains bone density by facilitating calcium transport into bone

Promotes a healthy heart and vascular system

Includes the most bioavailable forms of vitamin K1 and K2

Bioavailable over a sustained 24-hour period

NON GMO
The method by which vitamin K supports bones and arteries is related to its relationship with calcium. Research has shown that low vitamin K status interferes with the function of a protein called matrix Gla-protein (MGP). This protein is vitamin K dependent and must be carboxylated to function properly.1

Without adequate vitamin K, MGP remains uncarboxylated. Studies have found that uncarboxylated MGP accumulates at the site of arterial calcification.2,3 Without normal levels of carboxylated MGP, calcium in the blood can bind to the arterial wall resulting in calcification.4,5

Health benefits of vitamin K

The Rotterdam Heart Study, a large-scale, well-controlled clinical trial that tracked 4,800 subjects for seven years, revealed that people who consume the most dietary K2 have healthier hearts when compared to people who consume the least.6 Additional studies have shown that higher vitamin K levels also correspond to less calcium deposits in the aorta, and can even cause a 37% regression of preformed arterial calcification.7,8

Different forms of Vitamin K

Unfortunately, obtaining enough vitamin K through the diet can be difficult. The most common form of vitamin K, known as K1, is present in leafy green vegetables. Not only do many people avoid these vegetables, the K1 is tightly bound to plant fibers and not easily absorbable.9-11

In contrast, vitamin K2, which is found in meat, egg yolks, and dairy, is up to 10 times more bioavailable than K1 and remains active in the body for far longer.12 If you're avoiding these foods for health reasons, it's essential to take a K2 supplement.

Super K with Advanced K2 Complex makes it easier to get enough vitamin K by including two forms of vitamin K2, MK-4 and MK-7. The MK-4 form is the most rapidly absorbed type of vitamin K. However, it only lasts in the bloodstream for a few hours.13 In contrast, the MK-7 form is available to the body for a full 24-hour period14 at much higher levels.12

A complete Vitamin K supplement!

References:
Osteoporos Int. 2013 Sep;24(9):2499-507.
Atherosclerosis. 2012 Dec;225(2):397-402.
Adv Nutr. 2012 Mar 1;3(2):166-73.
Thromb Haemost. 2008 Oct;100(4):593-603.
Clin J Am Soc Nephrol. 2008 Sep;3(5):1504-10.
J Nutr. 2004 Nov;134(11):3100-5.
Blood. 2007 Apr 1;109(7):2823-31.
J Vasc Res. 2003 Nov-Dec;40(6):531-7.
J Nutr. 1999 Jun;129(6):1201-3.
BrJ Nutr. 2010 Sep;104(6):858-62.
J Nutr. 2002 Sep;132(9):2609-12.
Blood. 2007 Apr 15;109(8):3279-83.
Br J Nutr. 1996 Aug;76(2):223-9.
Nutr J. 2012 Nov 12;11:93.
Find Similar Products by Tag
Product Reviews
Find Similar Products by Category
Customers also viewed